Sixth Form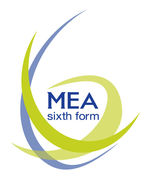 Our over-subscribed 6th Form has become the destination of choice for many students aged 16 to 18.
The MEA Guarantee:
Access to the world of work and study, makes us unique amongst 6th Forms as we are able to deliver the MEA Guarantee. This states that on leaving, every student will have support and a realistic opportunity to advance positively into further training, education or employment. This is realised through the close links we have with our sponsors and partners including Manchester Airport, Wythenshawe Community Housing Group, Manchester City Council and Manchester United amongst others. This network of partners provides our students with unparalleled access to the world of work and further study.
Mentoring Programme: Supported by our partners:
The networking opportunities we offer are strengthened further through our mentoring programme. This links our students with a mentor from a local business who provides individual support to students when they are making choices about their future or preparing them for employment. This programme has taken our students in many, exciting directions including full and part-time employment, extended work experience, interview preparation, support with university applications and so on.
Leadership & Enterprise: Develop and achieve your personal goals.
Alongside our varied curriculum, we offer numerous opportunities for students to develop and achieve their personal goals. Working as student leaders, Sixth Former's work with younger pupils both at MEA and in primary schools developing leadership skills. Charity fundraising, participation in community events and an extensive programme of visits linked to studies and future destinations all contribute to the wider education of students. Finally, our courses are tailor-made to suit our students and their learning needs best. It's never been a better time to join the MEA 6th form. Click on our contact page to get in touch!