Welcome to our Sixth Form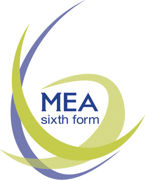 MEA Sixth Form has a bespoke aspirational provision which meets the needs of our students and prepares them for a fantastic future. It supports students who wish to go to university as well as those who want to be connected to the local economy.
MEA Sixth Form has excellent links with employers within the local area. Many of these links are established within work experience opportunities and a high quality mentoring scheme.
All students in MEA Sixth Form have the opportunity to access a business mentor who provides support throughout their post 16 education. This support can be within studies, applications, future career pathways and many other ways which are beneficial to the students.
MEA Sixth Form has an excellent record of ensuring positive destinations for students once they have completed their studies with us. This has recently included students taking up business management, logistics and joinery apprenticeships within local organisations.
It also seen a number of students go on to study at universities such as Manchester Metropolitan University, Edge Hill, Leeds Beckett University, Liverpool Hope, and the University of Central Lancashire. The courses studied at these universities have included, PR and Marketing, Psychology, Sport Management, Criminology and Law, Forensic Psychology, Early Years and Childhood Studies, and Tourism Management.
Students who have progressed to university after studying at MEA Sixth Form have also benefited from a £1000 bursary payment provided by our sponsor WCHG.
Through our links with the Manchester United Foundation we are able to offer amazing sport based enrichment activities which involve weekly training sessions with high quality coaches, along with competitive matches.
Students are able to develop their skills outside of the classroom by taking part in other enrichment activities such as mentoring, supervisory duties, volunteer projects and charity events, training and coaching sessions, and work experience placements.
MEA Sixth Form has a strong sense of community and is a friendly and inviting place to study. The common room facilities are excellent for both working and socialising.
If you require any further information please contact our Sixth Form Manager, Mr Thornton, at the Academy on 0161 499 2726 or via email sthornton@prospere.org.uk